Join me for a LIVE 4-week Telecourse
My life absolutely shifted in a major way the moment I dedicated my time to connecting with the Divine masters and teachers.

For many years, I was using my ability to channel for bringing in healing for my clients and myself, to receive information from the Akashic Records, and to connect with Source energy for insight and direction.

However, it wasn't until I committed to a daily practice of connecting with high vibrational masters and teachers for guidance and wisdom, that my life began to shift in the most purposeful way.

As I began doing this work, I noticed that there was a consistent message throughout the teachings and that was to teach the knowledge and process that I have been given to as many people as possible.

Currently, we are enduring some very tumultuous times here on our planet. It is imperative that we begin to raise our vibrations so that we can hold a space for those of us that are not quite ready to embrace their Divine LIGHT.

The information being shared with me is also being shared with many others across the world. Now is the time for you to Commune With The Masters and share the wisdom that is crafted especially for you.

Awaken your inner eye and step into your truth. The masters and teachers are waiting for you.
COMMUNE WITH THE MASTERS
Includes...

A 4-week LIVE Telecourse on how to work with the Divine masters and teachers for channeling, creating, and sharing your knowledge with others.

In this program, I will walk you, step-by-step, through the process of connecting with the Divine masters and teachers so that you can begin to channel the information that they have to share with you.

This is an interactive LIVE course that includes weekly group calls where you learn how to channel through the power of your own Divine eye.

PLUS, you will receive access to the private student page which will include weekly recordings of the calls, in case you were unable to attend the live class, and the weekly meditations.


Connect with the Divine knowledge and wisdom that is waiting to support you along your journey.

The only way to acquire the entirety of knowledge and wisdom
is through the passageway of your own Divine eye.
This program is specifically designed for those of you that are ready for the next level of learning along your path.
During this training, you will learn to connect with Divine master and teachers, channel information that they have gathered just for you. Receive personal messages about your path and purpose.
Learn through the power of connection and creation, how to serve in the way you were designed to serve.
My life completely changed once I began to connect directly with the great masters and teachers. Receiving divine messages that resonated so strongly with me was just the confirmation I needed to get my life on track and with purpose.
One of the many benefits of channeling is the ability to ask questions directly related to you and your life's purpose. Receiving personalized messages in this manner reinforces the LOVE and SUPPORT that is always surrounding you.
Be a part of the change. Coming together as a group to share your messages will provide for you the validation needed to assure you that you are on the right track. It is important that you trust your power and your ability to connect with all things Divine.
The richness of life always begins within.
About The Course
- 4 LIVE training calls with Ethel
Each week I'll be hosting a live training call where we will go deeper with the main topic of the week. Every class will include a channeling exercise where you will have the opportunity to share the information that you have received with the group. Calls will last approximately 90 minutes. During our group calls you will have the opportunity to ask questions and share insight with your classmates.
*Due to the Labor Day holiday, there will be no class scheduled on Sept. 8th
-4 training call recordings
For those of you unable to attend the live classes, all calls will be recorded and available shortly after the live call so you can re-listen at your convenience.
Terms and Conditions
COURSE OUTLINE
WEEK 1 - SEPTEMBER 1ST

Channeling The Divine

What is channeling




Different ways to channel




Who we channel and why

Channeling exercise




WEEK 2 - SEPTEMBER 15TH

The God Eye

Opening the God eye




Channeling through the God eye




When to use the God eye




Protecting the God eye




WEEK 3 - SEPTEMBER 22ND

Creating With The Masters

Creating with the Masters




Creating through the God eye




Creating from Divine truth

WEEK 4 - SEPTEMBER 29TH

Sharing Your Message


Interpreting

your message


When to share your message




How to share your message




Being of service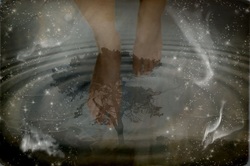 Stop dismissing the signs that have been nudging you to expand your awareness in all things Divine. The time is now for you to begin to awaken your inner passion and become of service to yourself and those around you.

You are Divine. You are Creator. You are Wisdom.





Class size is limited, sign up today so that you don't miss out on this amazing opportunity!

REGISTRATION CLOSED